Young Advocates Group
The Young Advocates Group (Y.A.G.) is a dynamic group of diverse young professionals with an interest in St. Louis Area Diaper Bank's mission and advocating for systemic change.

What is the Young Advocates Group?
Y.A.G. is a diverse group of emerging leaders between the ages of 21 and 40 who are dedicated to supporting and advocating for the mission of St. Louis Area Diaper Bank. Y.A.G. will provide leadership and support for fundraising efforts, advocacy, and increase the awareness of diaper need and period poverty in our community.

What are the benefits of joining Y.A.G.?
By becoming a Young Advocate, you will meet other passionate young people, get involved in an amazing nonprofit, and give back to the St. Louis Community. This includes:
help St. Louis Area Diaper Bank achieve fundraising goals by participating in annual campaigns, such as Period Poverty Awareness Week & Diaper Need Awareness Week
various leadership opportunities
planning and attending social events
volunteer opportunities both in the warehouse and in our community
and MORE!

How do I join Y.A.G.?
Young Advocates Groups asks members to complete an annual commitment form which provides the opportunity to commit to a number of events (3-5 per year), host one in-kind drive or fundraiser and financial donation ($10-$50 per month, or an amount of your choosing) for 2023.
While the signup for founding members is closed, you can send an email of interest to join Y.A.G. to info@stldiaperbank.org.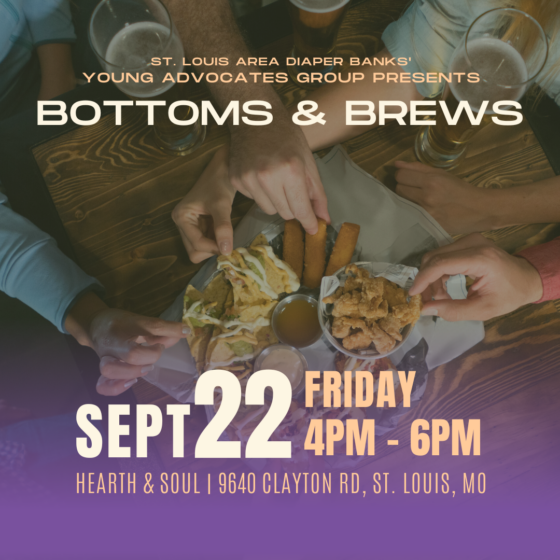 Bottoms & Brews
The Young Advocates Group is a growing group of dynamic young professionals, who act as advocates and ambassadors for St. Louis' babies and menstruators. They are passionate about engaging in and promoting the mission to our community. Meet and learn more about the Y.A.G. at their introductory event, Bottoms & Brews.
RSVP
RSVP
Who Are the Young Advocates?
Co-Chairs
Meghan Steineker
Caro (CeCe) Wolfner
Secretary
Emily Malloy
Members
Ashley Henson
Brittney Mollman
Mary Foley
Nicole Benzaquen
Paula Vickers
Taylor Gadus